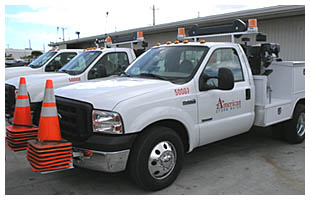 American Storm Water's commitment to provide "A Cleaner Tomorrow" shows in our extensive fleet of specialized equipment that no other storm water company can match.
Whether our customers need a
CCTV camera truck
to check sewer/storm line integrity, or a vacuum truck to service catch basin screen blockage, our specialized equipment provides storm water management services that go hand-in hand with our leading edge
catch basin screen technology
and
installation services.
Our valued customers can always rely on American Storm Water
to have the equipment and the expertise they need to get the job done.
Equipment Reliability Program
American Storm Water's promise to provide their customers with unparalleled
customer service
can also be seen in how well our specialized equipment is maintained via our
Equipment Reliability Program.
Inspected and serviced before each use, American Storm Water can confidently ensure their equipment will arrive at the job site on time, and in top condition, while providing the most
reliable and professional
storm water management services in the industry.
CCTV Camera Truck




Pressure Washers




Super Suckers/Guzzlers




Sewer Jetters




Portable Vactor Unit

Portable Air Mover