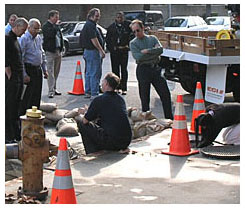 Because American Storm Water is the largest
catch basin screen manufacturer and installation company
in the country, we can provide our customers with customized product demonstrations so they can determine what storm water solution is best for their site.
Many municipalities in the Southern CA area like the County of LA, City of LA, Garden Grove, Huntington Beach, Del Mar and Beverly Hills have participated in these demonstrations, as well as installed American Storm Water catch basin screens.
The theory behind American Storm Water product demonstrations are to show how
nuisance water
needs to flow unimpeded into the catch basin during a rainfall cycle.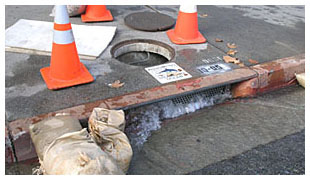 As the water flows down the curb and gutter, trash will be picked up and transported into the catch basin screen gate area. The nuisance water will continue flowing to the storm drain.
However,
trash and debris will collect at the locked gate or into a catch basin screen
located below the storm drain until the street cleaning crew arrives to clean up the excess debris, thus helping to prevent storm water pollution from entering the waterways.
If you are interested in attending future American Storm Water product demonstration in Agora Hills, Westlake Village, Calabasas or Burbank
please call 310-261-1570
or
click here to request more product demo information.