At American Storm Water we are known for our innovative approach to creating storm water management products that are dedicated to keeping harmful pollutants from entering our precious waterways. In keeping with our vision, American Storm Water's newest addition, the
Debris Dam has taken catch basin screen technology to new heights.
Made of 5 mm perforated stainless steel construction, the Debris Dam's full capture, high capacity screen trash and organic debris removal system is proven to eliminate all trash debris, even as small as a cigarette butt from entering the storm drain system.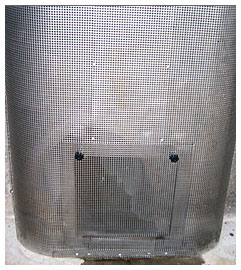 Durable & Dependable, Debris Dam can Handle Extreme Flooding
Each Debris Dam is custom made to fit any catch basin floor configuration and can fit over most lateral pipe sizes. A curb diverter is attached to the top of the Debris Dam to divert water flow away from the storm drain entrance. An extremely efficient, six inch overflow or "Dam" area is configured within the Debris Dam as a safety valve in case of extreme catch basin or street flooding, allowing the Debris Dam to continue to capture debris as small as 5mm.
A "12x12" maintenance hatch is attached to the lower portion of the Debris Dam to allow cleaning and maintenance crews to access the storm drain outlet. The Debris Dam is equipped with a special locked "hatch" to allow maintenance crews to easily access the lateral outlet for cleaning and jetting.
Because providing unparalleled
customer service
is one of our most valued philosophies at American Storm Water, we proudly offer every client we serve a
long term material warranty, along with a 1 year installation warranty
for every customized Debris Dam unit we sell and install.

For more information about the Debris Dam or to request an American Storm Water product brochure please
contact us.